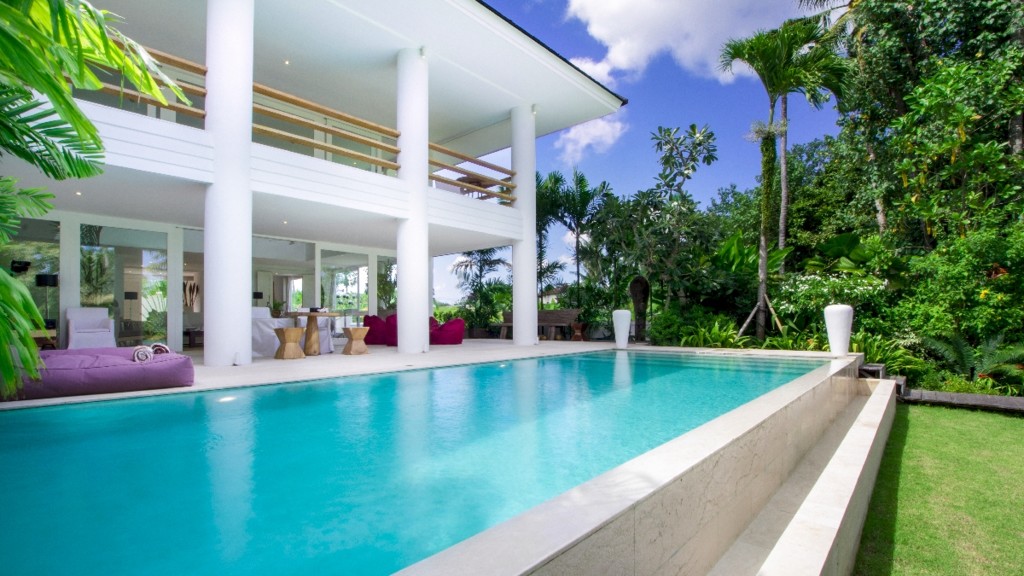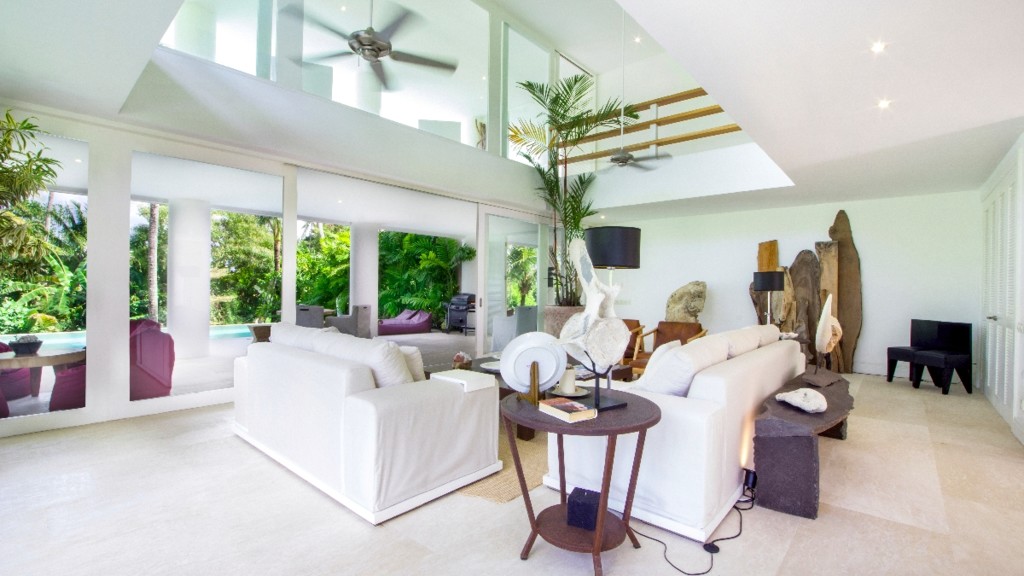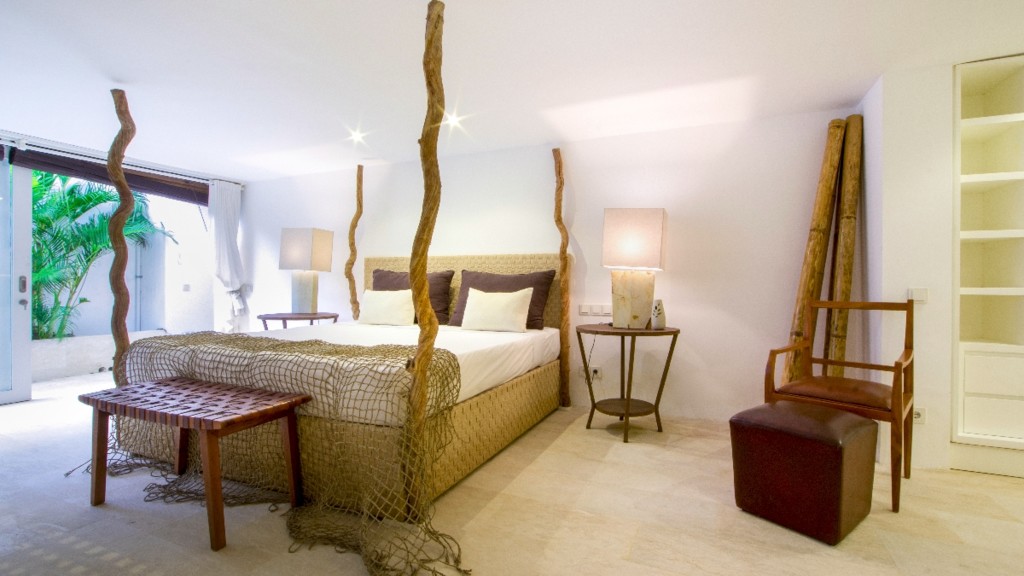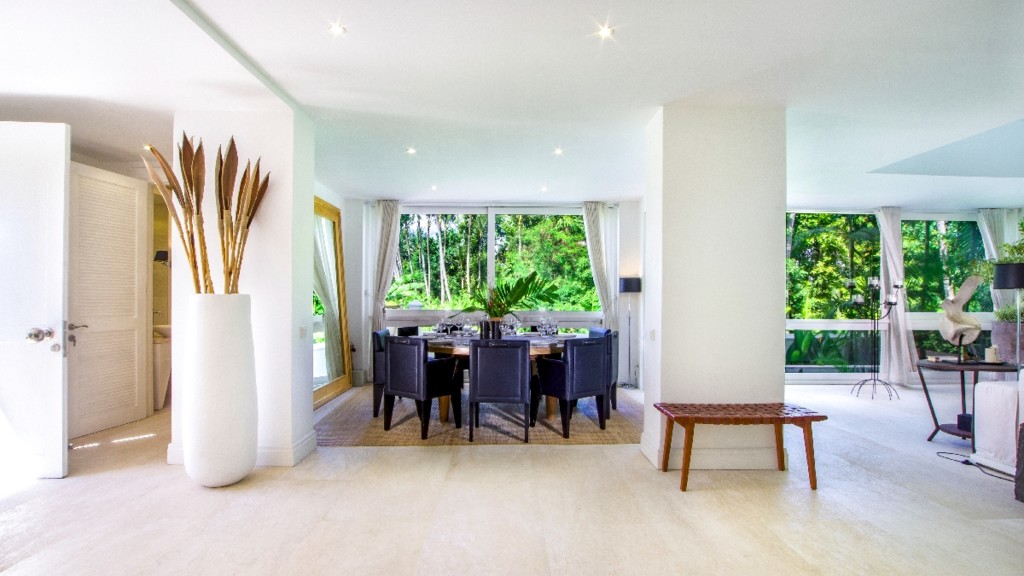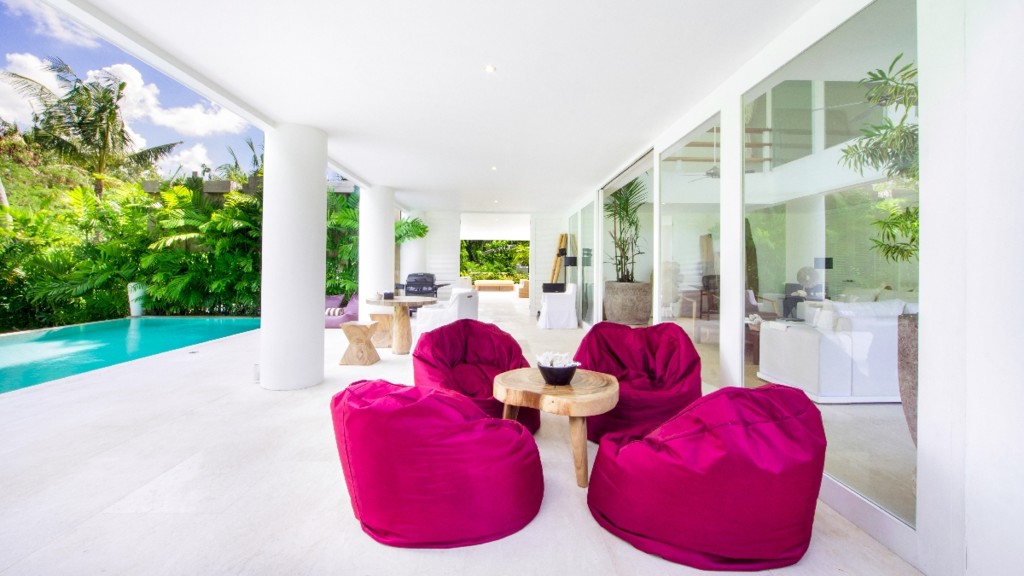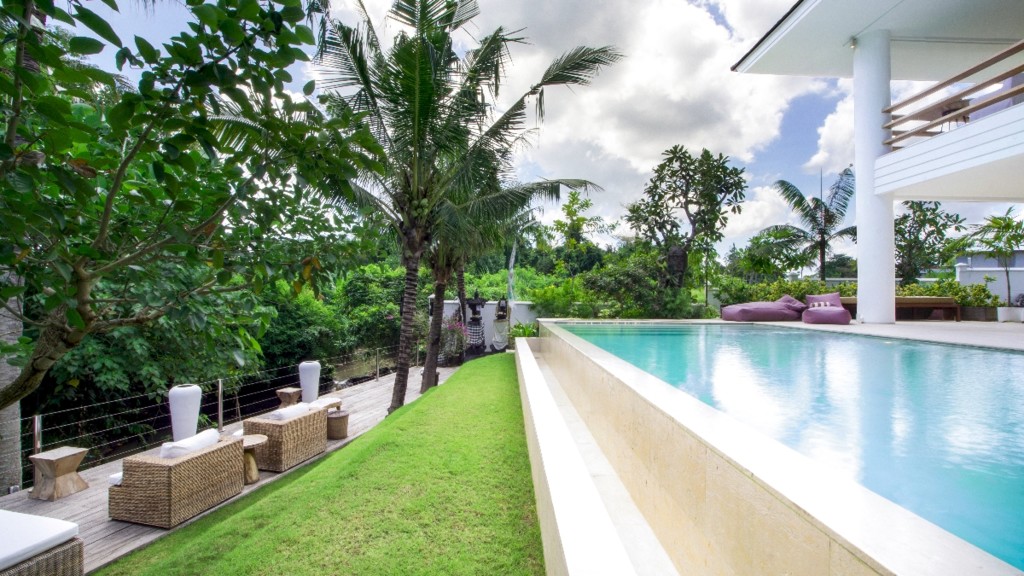 About Venus Estate
Venus Estate is made up of two palatial vacation residences – Villa Venus Uno and Villa Venus Duo. Built by acclaimed architect Stefan Dorata for renowned race car driver Nico Caldarola, these imposing structures are mirror images of each other. Although located along the river amidst the legendary rice terraces of rural Canggu, the entire estate exemplifies contemporary and innovative architecture and design. Both villas have predominantly white interiors with elegant, luxurious and stylish appointments as well as expansive exteriors with ingeniously laid out amenities. The two villas of Venus Estate may be booked separately or as one – especially for live-in, destination special life events. Celebrations that truly deserve class, sophistication and taste.
Outdoor And Pool Area
The extensive outdoor areas of both villas were deliberately planned for the utmost enjoyment of the property's enchanting natural environment. Parallel to the flowing river, both villas have long wooden decks where dining tables for large groups can be set up. Each villa also has a 10-meter
infinity pool
where everyone can simply jump in for splashy fun and games. On both villas' pool decks and covered terraces are
pool beds
, benches and spots for sunbathing or for leisurely lounging.
The Living Area
Both villas have airy and spacious indoor
living areas
richly decorated with handmade as well as natural woody artworks and artifacts. On large and long couches and chairs that look out to the lush surroundings, everyone can get together to engage in lively conversation. Behind the living areas, in separate rooms, are
dining areas
with round tables. Each dining table can comfortably seat eight although more can be accommodated. Here, authentic Balinese specialties as well as Western cuisine may be served – dished out by in-house chefs at fully-equipped, ultra-modern
kitchens
installed at separate sections behind the dining areas.
The Bedrooms
Together – both villas have a total of
10 bedrooms
. There are
four master suites
. All are on the second floor. These bedrooms look more spacious because of floor-to-ceiling glass walls overlooking the living areas on the ground floor. Each master suite, through a suspended walkway above the living area and a glass entrance, is connected to a long and furnished balcony with views of the swimming pool, the river and the outlying scenery. There are also, all in all,
six junior suites
on the ground floor. All, through large windows, look out to the tropical gardens. All bedrooms have king-sized beds, walk-in closets and dedicated bathrooms.
Staff And Services
A staff composed of a housekeeper, a gardener, a pool attendant as well as security personnel oversees the maintenance and smooth daily operations of each villa. In addition to having a personal chef, a babysitter, a driver, a laundry helper and a spa therapist, upon your request, may be engaged for an extra fee. Also available for rent are a car and a scooter.
Around Venus Estate
Venus Estate's location is near
Pantai Batu Mejan also known as Echo Beach
– one of Bali's most popular surf spots. Here, along the stretch of powdery-white sand are seafood restaurants and sunset cafes such as
Sticky Fingers, Osteria Italiana, Sate Bali, Dian Cafe and Echo Beach House
where you can all have your fill of barbecue and boat-shaped buffets. You can also get a glimpse of the magnificent sunset at
Tanah Lot
– an ancient shrine regarded as one of Bali's iconic landmarks. You may also want to find out your handicap at the
Nirwana Golf Club
with an 18-hole course traversing rice terraces as well as scenic points where land and sea meet.
Click here to see all 66 villa pictures
Here are our availabilities for the next few months:
Minimum stay
9 bedrooms
10 bedrooms
from 17/10/2017 to 21/12/2017
Low season
3 nights

USD $

1,656

USD $

1,840

from 21/12/2017 to 09/01/2018
High season
3 nights

USD $

2,029

USD $

2,254

from 09/01/2018 to 15/02/2018
Low season
3 nights

USD $

1,732

USD $

1,848

from 15/02/2018 to 22/02/2018
High season
5 nights

USD $

2,090

USD $

2,264

from 22/02/2018 to 27/03/2018
Low season
3 nights

USD $

1,732

USD $

1,848

from 27/03/2018 to 04/04/2018
High season
5 nights

USD $

2,090

USD $

2,264

from 04/04/2018 to 01/06/2018
Low season
3 nights

USD $

1,732

USD $

1,848

from 01/06/2018 to 01/07/2018
Mid-high season
3 nights

USD $

1,917

USD $

2,033

from 01/07/2018 to 01/09/2018
High season
5 nights

USD $

2,090

USD $

2,264

from 01/09/2018 to 01/10/2018
Mid-high season
3 nights

USD $

1,917

USD $

2,033

from 01/10/2018 to 20/12/2018
Low season
3 nights

USD $

1,732

USD $

1,848